Do you have  UNSUPPORTED VERSIONS OF TIMESLIPS?
We can HELP!!  Call us at 954-755-4591
 OUR MISSION:
Computer and Software Training, Inc. (CSTI) provides our clients with high quality, comprehensive and personalized training and support in the areas of :
Time and Billing

Case Management

Cloud-Based Solutions
Our training is uniquely customized to your company's needs and builds on the current skills and knowledge of your staff. CSTI provides you with the most cost-effective and efficient way to improve your office productivity through the application of industry leading software applications tailored to your needs.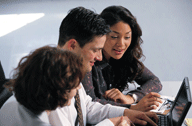 We will meet with you to fully understand your objectives and your present capabilities. We will personalize our training to your specific needs with an appropriate combination of individual and group instruction. Our objective is to increase your overall office productivity as rapidly as your staff can absorb it, and on-going phone support is available when problems arise.